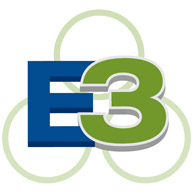 Conservation is More than "Going Green"
E3 logoE3 and Cost Benefit Analysis
Most clients begin with Advanced Energy Innovations' proprietary E3 system and cost benefit analysis. After working with the client to clearly define E3 goals for saving energy, expense, and the environment, we may conduct a thorough investment-grade audit to examine everything on site that consumes or potentially wastes energy.
Depending on the site and client goals, our auditors and engineers evaluate any or all of the following:
Lighting and control systems
HVAC plant (boilers and chillers)
Building envelope (windows, insulation, roofing)
Building mechanics and motorized systems
EMS/EMCS Systems
Compressed air and gas systems
Water and steam systems
Alternative energy options
E3 Identifies Immediate Savings
The first step in the E3 system is to examine historical energy use patterns to identify immediate no-cost and low-cost opportunities to reduce spending. Often times, it's as simple as training staff to turn off lights and adjust thermostat set points as they leave each area or adding localized controls. Often changing a lamp from incandescent to fluorescent yields significant savings at minimal cost. Or, we can provide onsite personnel for a day, or as long as needed, to work side-by-side with staff to train them on monitoring energy consumption and maximizing energy savings.
RCx Scoping Determines Next Steps
A Retro-Commissioning (RCx) scoping study evaluates if energy control systems are being operated and maintained in conformance with current use.